Welcome to Eyes on Fulton
Eyes on Fulton has been helping the Chicago community achieve clear, healthy, and comfortable vision since 2016.
We provide comprehensive eye care services to patients of all ages, including (but not limited to) myopia control, dry eye therapy, and keratoconus management. To help you even further, we invest in modern technologies like the OptiLight by Lumenis IPL so we can give you the care you need quickly and conveniently.
Stop by today and experience the Eyes on Fulton approach. If you have any questions, please get in touch with us or book an appointment today.
Book Appointment
Insurance Information
We work with a wide range of insurance plans and payment options. Some of our featured insurance carriers include:
Don't hesitate to contact us if you have any questions about your coverage or payments.
Pay Online
At Eyes on Fulton, our convenient online payment option makes the payment process easier.
Follow the link and experience a new way to pay.
Patient Forms
To access your patient information, please follow the link. Here, you'll find specific patient forms we may ask you to fill out before your next appointment.
Book a Telemedicine Appointment
We understand that it's not always easy to come in for an in-person appointment. That's why our team offers telemedicine appointments for routine eye care assistance.
With this service, our team is able to virtually assist with minor eye health issues from the comfort of your own home. However, if a more comprehensive eye exam is needed, we may need to book an in-person appointment for the best view of your eye health.
Book Appointment
Important Information About Your Appointment
Cancellation Policy
Appointments represent time specifically set aside by our doctors for you. Many practices overbook their schedule to account for patients that no-show or cancel at the last minute. We value and respect your time, so we do not overbook our schedule.
We kindly ask that you give us 24-hour notice if you need to cancel/reschedule to allow adequate time for us to schedule another patient in your time slot. There is a $25 fee for no-shows, cancellations, or reschedules less than 24 hours before your appointment time.
Insurance
All payments (including copays and deductibles) are due at the time of service. We make every effort to check if you are in-network before your appointment, but we cannot guarantee your specific benefits and eligibility. It is the patient's sole responsibility to inquire about all benefits (and payments) with the insurance company before your appointment.
Please feel free to reach out to us with any questions or concerns.
Minimizing Your Wait Time
As a courtesy to those who have an appointment after you, please be on time. If you are late, you are reducing your time with the doctor to address all your vision needs. Please complete all paperwork before arriving for your appointment. You may be asked to reschedule if you are more than 15 minutes late.
Frequently Asked Questions
What should I bring to my routine eye exam?
Please bring in your most recent glasses and contact lens prescription if you are a new patient so that we can tell you if your prescription has changed. If you have an unusual ocular history, please have your previous eye doctor fax (312-226-2021) or email ([email protected]) your most recent vision records.
Do you have parking?
We are located in the Fulton Market District/West Loop. Fulton Market is metered parking only. Please leave enough time to find parking if driving to us. We are also conveniently located one block away from the CTA Morgan Station (green & pink line).
What does an eye examination involve?
During a routine eye exam, we check to see if your vision can be corrected with glasses as well as check the overall health of your eyes.
How do you check the health of my eyes?
The eye has an outside surface and an inside surface, and we use different methods to check each area. We use a microscope to examine the outside of the eye (lids, lashes, cornea) as well as parts of the inside (lens, vitreous, retina). We also do a full retinal scan (Optomap) on every patient for a more thorough health exam of the inside of the eye (the tissue that is directly attached to the brain). This technology can detect eye and health conditions, including glaucoma, cataracts, macular degeneration, retinal diseases, high blood pressure, diabetes, stroke, melanomas, etc.
What is a contact lens fitting & is it included with my eye exam?
A yearly contact lens fitting is required if you would like to order contact lenses in the United States. A contact lens fitting is separate from a regular eye exam because the doctor needs to take specific measurements for contacts, choose lenses that work for your particular prescription as well as evaluate the fitting of those lenses. These steps are not done during a routine eye exam, so it is not included with a regular eye checkup. If a modification of your contact lens fitting or power is needed, this can be done with extra visits with the doctor for up to 90 days after your initial contact lens fitting appointment. Most insurances do not cover a contact lens fitting, so there will be an out-of-pocket cost.
Why is there an expiration on my glasses and contact lens prescriptions?
Our eyes and lifestyles are constantly changing, and an annual eye exam will help check that your glasses and contact lenses are providing clear vision. Most eye diseases are asymptomatic due to vision changing slowly, so it is best to come in yearly to monitor any small changes.
Contact lenses are medical devices regulated by the FDA and require the doctor to confirm that you can continue to wear contacts safely. The standard expiration date in Illinois for glasses prescriptions is 2 years, and contact lens prescriptions are one year.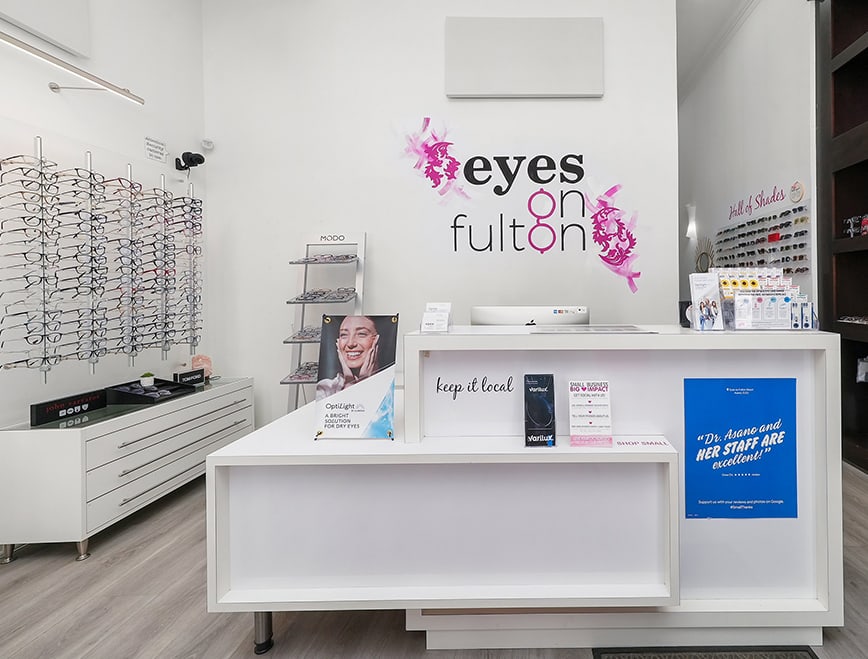 We're located right across the street from GOOGLE in Fulton Market/West Loop.
Our Address
1011 W Fulton Market

Chicago

,

IL

60607
Clinic Hours
Monday

:

9:00 AM

–

4:30 PM

Tuesday

:

9:00 AM

–

4:30 PM

Wednesday

:

9:00 AM

–

4:30 PM

Thursday

:

9:00 AM

–

4:30 PM

Friday

:

9:00 AM

–

1:30 PM

Saturday

:

Closed

Sunday

:

Closed
Weekend and evening hours available for myopia control only. Please call to schedule.